RSVP for the 2017 Investors' Breakfast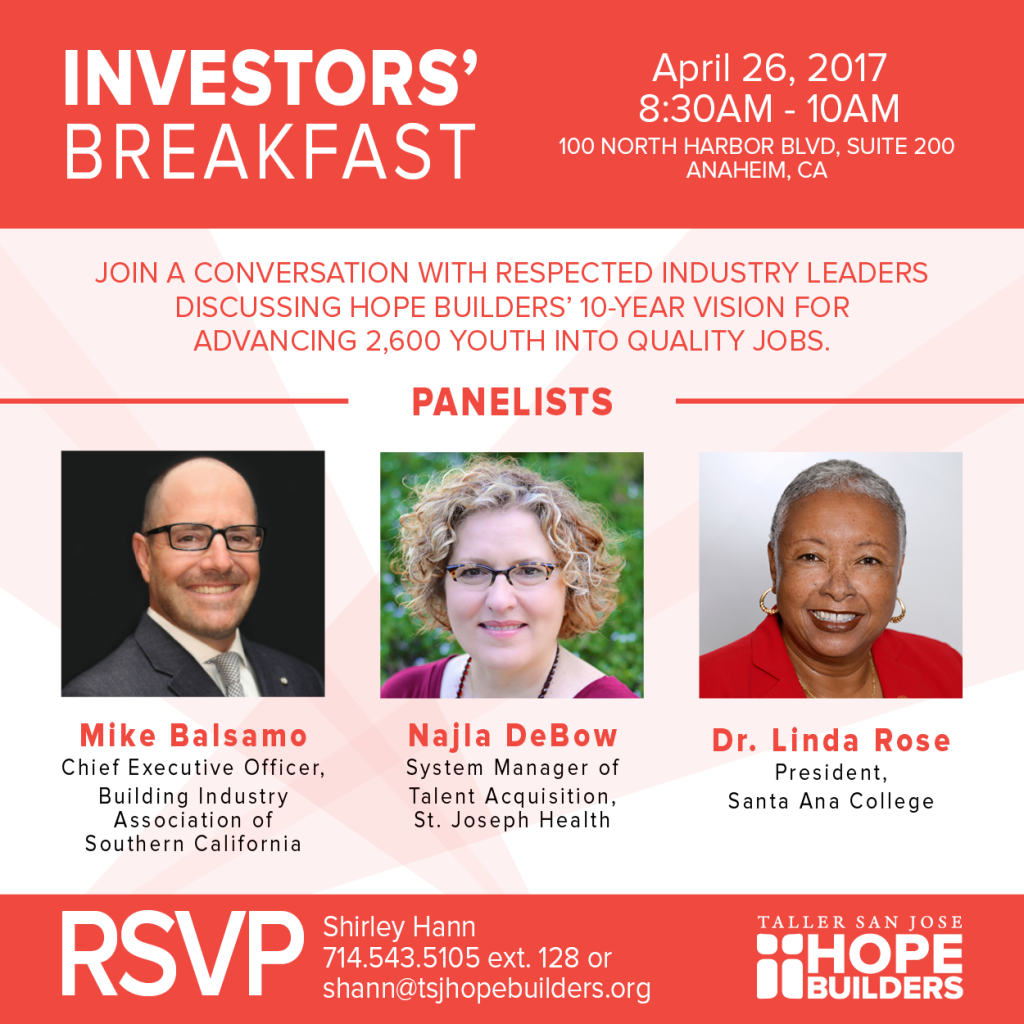 Michael E. Balsamo

serves as the Chief Executive Officer for the Building Industry Association of Southern California. Mike's role is to lead BIA Southern California in advancing its mission to be the single voice of building and development in Southern California. BIASC is a regional trade association that represents more than 1,100 member companies within a six-county region comprised of chapters in Orange County, Los Angeles/Ventura, Riverside/Imperial, and San Bernardino Counties.
Mr. Balsamo is a long-time resident of Orange County and graduate of UC Irvine where he studied both Political Science and Environmental Science. Mike gained experience as a land use planner for the cities of Irvine and Lake Forest following his graduation and has made it his goal to champion building as the foundation of vibrant and sustainable communities.
Following his education and experience as a land use planner, Mike later worked as a consultant to Irvine Company, Retail Properties Division serving as a project manager for numerous shopping center developments on the Irvine Ranch. From 2002 to 2005, he served as BIA/OC's Deputy Executive Officer of External Relations & Director of Governmental Affairs. He then transitioned to Lennar Homes where he oversaw the development of new home communities in Orange County, most notably on the former USMCAS Tustin property prior to becoming the Manager of OC Planning at Orange County Public Works in Santa Ana.
Prior to stepping into his role as CEO of BIASC in July of 2016, Mike most recently served as the Executive Officer for the Orange County Chapter of BIA, where he was able to display his 25 years of experience in land use planning and real estate development in both the public and private sectors. "Given the severe housing challenges in our state, it is reassuring to elected officials like myself, that a leader of Mike's caliber is at the helm at BIASC," said Assembly Member Tom Daly about Mike's leadership ability.
"Together with our four chapters we build the future through advocacy, partnership and education for the entire building industry." Mike says about his role with BIASC. Mr. Balsamo currently works out of the BIASC Regional Office located in Irvine, CA. He is married with 3 children. He and his family reside in Aliso Viejo.
---
Najla M. DeBow

, MSLM, SPHR, is the Southern California System Manager of Talent Acquisition at Providence, St. Joseph Health. She has worked in the Human Resources (HR) field for over thirty years, developing her expertise in industries such as retail, manufacturing, transportation, .com, and healthcare. Holding positions of manager, director, and vice president of human resources, her skills and abilities span all aspects of HR.
In addition to her accomplishments as an HR leader, Najla holds a position as instructor at University California Irvine for the extension courses associated with the Human Resources certificate program, and is a passion speaker for the American Heart and Stroke Association.
Najla is a champion of social responsibility working towards the assurance of placing the right candidates with the best opportunities to become self-sufficient; evolving to a positive impact to the company, and community where they live and work.
---
Dr. Linda Rose

was appointed president of Santa Ana College in July 2016. Reporting to the community college district chancellor, her responsibilities include planning, organizing and implementing educational policy and procedures to develop curriculum and student support services; budget management; enhancing partnerships with business, governmental and community organizations, as well as with K-12 and higher education institutions in the area; and leading the institution's fund development efforts.
Prior to her appointment, Dr. Rose served as president of Los Angeles Southwest College from 2014 to 2016 where she provided leadership in the management, supervision, and development of instructional programs, student, and administrative services that support student achievement and progress; oversaw activities in planning and accreditation; and provided direction and leadership in the development and operation of the college's $28 million budget and the planning and utilization of existing and new bond-funded facilities.
Dr. Rose returns to Santa Ana College where she served as vice president of academic affairs from 2011 to 2014. Serving as the college's chief instructional officer, she provided leadership and advocated for collaboration in a participatory governance environment in support of college administrators, faculty and staff as they planned, revised, evaluated, and delivered all instructional programs and activities. She supervised and directed the college's accreditation self-evaluation process and provided leadership in ongoing bond-related construction of instructional facilities. In addition, she supported the development of credit bridge programs with SAC's Continuing Education Division.
As a product of the community college system, Dr. Rose has dedicated her career to community college education. She began her career at Cerritos College as a part time English instructor. While there she earned a tenured faculty position and served as the college's Puente Program co-coordinator helping to serve educationally underrepresented students and coordinated Cerritos College's Program for Adult College Education (PACE). She also served as English Department Chair and later was named Dean of the Liberal Arts Division.
As an academic leader, Dr. Rose is a regular presenter at conferences and meetings including participation as a panel participant for the American Council on Education: Women's Leadership Network. Earlier, a keynote speaker for the American Association of University Women's Women Hold up Half the Sky Conference and has served as a workshop facilitator for numerous Associated Students of Cerritos College Leadership Conferences. Previously, she was also a co-presenter at the International Conference on the First Year Experience in Southampton, England and served as a guest host for KPCC's Ebony program.
Dr. Rose served on the Los Angeles Southwest College Foundation Board of Directors and the Hope Builders Board of Directors. She was also an appointed member of the California Community College Chancellors Office, Workforce and Economic Development Program Action Committee. Among her honors and awards are: the Cerritos College Outstanding Administrator Award; the Cerritos College Outstanding Faculty Award for the Liberal Arts Division; Who's Who Among America's Teachers, Fifth Edition; and the National Institute for Staff and Organizational Development Teaching Excellence Award.
Awarded her doctorate in Educational Leadership from the University of California, Los Angeles, Dr. Rose also holds a Master of Arts in English and Bachelor of Arts in Interdisciplinary Studies from California State University, Dominguez Hills and an associate degree in Liberal Arts from West Los Angeles Community College.