"I am forever grateful to Hope Builders for
allowing me to realize my own potential, and
to everyone whose support fuels their work."
—12-year Hope Builder Alumni
Hope Builders isn't simply a jobs program. Or a staffing agency. It's a community. When you become part of it, it stays with you and keeps giving back.
That goes for our young adults, the employers who work with us, and the great support we receive from Orange County and beyond. Learn about some ways Hope Builders enriches lives.
A CALLING AND A COMMUNITY.
The Hope Builders Community reaches across demographics, social classes, and private and public organizations. Hope Builders are not only found in hospitals, construction sites and classrooms, but also in board rooms, Fortune 500 companies, and higher education. Hope Builders are changemakers and innovators, united in the belief that opportunities make a difference and that when our trainees succeed, our community becomes stronger. Program alumni proudly serve as Hope Builders' ambassadors, hire graduates and make financial contributions.
PEOPLE Are what Make Us tick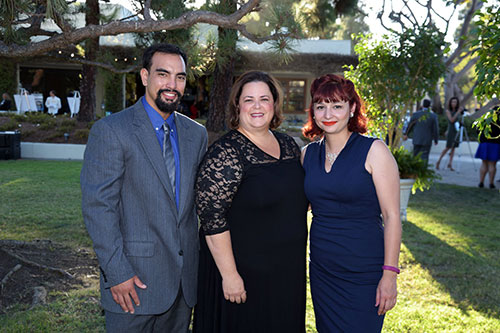 Hope Builders celebrates alumni accomplishments at the Light Up A Life gala.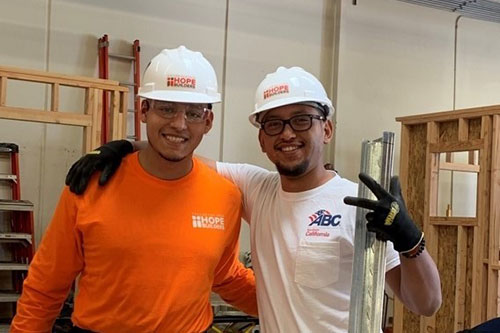 Hope Builders trainees develop professional networks with other trainees and alumni.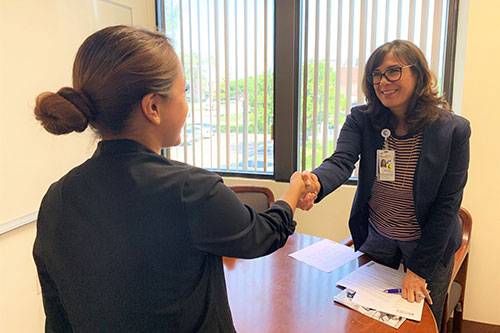 Volunteers provide support to trainees as they prepare to enter the workforce.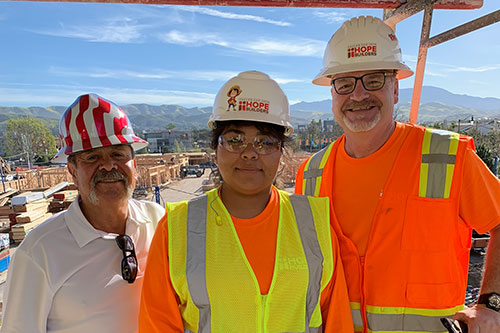 Hope Builders staff and trainees conduct field trips to prospective employer sites.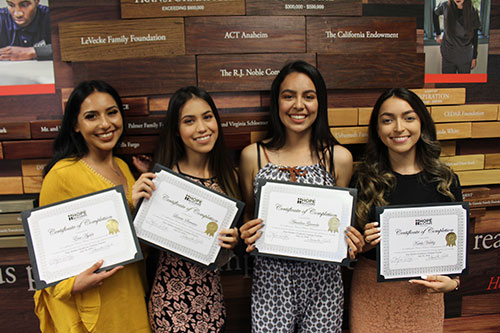 Trainees celebrate program completion together.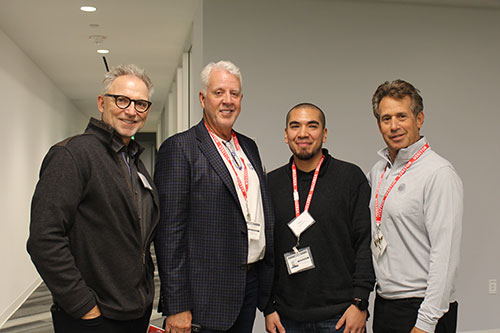 Business leaders and HB100 members meet with trainees to learn about their experience at Hope Builders.
AMIGOS: INVESTING IN ORANGE COUNTY'S YOUNG ADULTS.
AMIGOS: INVESTING IN ORANGE COUNTY'S YOUNG ADULTS
Donors who contribute gifts to Hope Builders' Amigo Scholarship program make it possible for young adults to access free-of-charge training that leads them to careers. Starting at $1,000, scholarships sponsor different elements of a young person's training.
Opportunities to volunteer.
If you are interested in serving your community and sharing your talents, we invite you to join us. Here are just a few of the ways to share hope.
Help young adults practice their interviewing skills and build confidence in their job search.
Share your knowledge and career insight with young adults during their life skills sessions.
Our annual fundraiser offers many ways to share your interests and talents.