Ana & Gabriela- How Your Support Impacted An Entire Family
Two sisters with different careers aspirations, who both financially struggled as single mothers, were able to find meaningful careers through Hope Builders.
Ana was 12 and Gabriela, 10, when their family moved to the United States from Mexico. Despite the hard adjustment, they were both able to successfully graduate from high school. Shortly after graduation, Gabriela had her first son and couldn't afford to continue her education. She worked at a dead-end job, struggling to make ends meet.
Gabriela heard about Hope Builders from a friend who completed training and found a good job. Wanting a better life for her two young sons, she pushed aside her nerves and enrolled in the healthcare training program. In order to support her two sons, she also worked full-time during training. Despite having to juggle many responsibilities, Gabriela achieved some of the highest grades she's ever gotten as a student.
"I was going through so much and I felt incapable of doing anything," said Gabriela. "Thanks to Hope Builders and the amazing staff, I proved to myself that I was able to do more than I ever saw myself doing. I wanted a new beginning to my story and Hope Builders gave me that option."
Gabriela is now a Medical Assistant at MemorialCare Medical Group earning $15.61 an hour and hopes to go on to receive her medical assisting certification.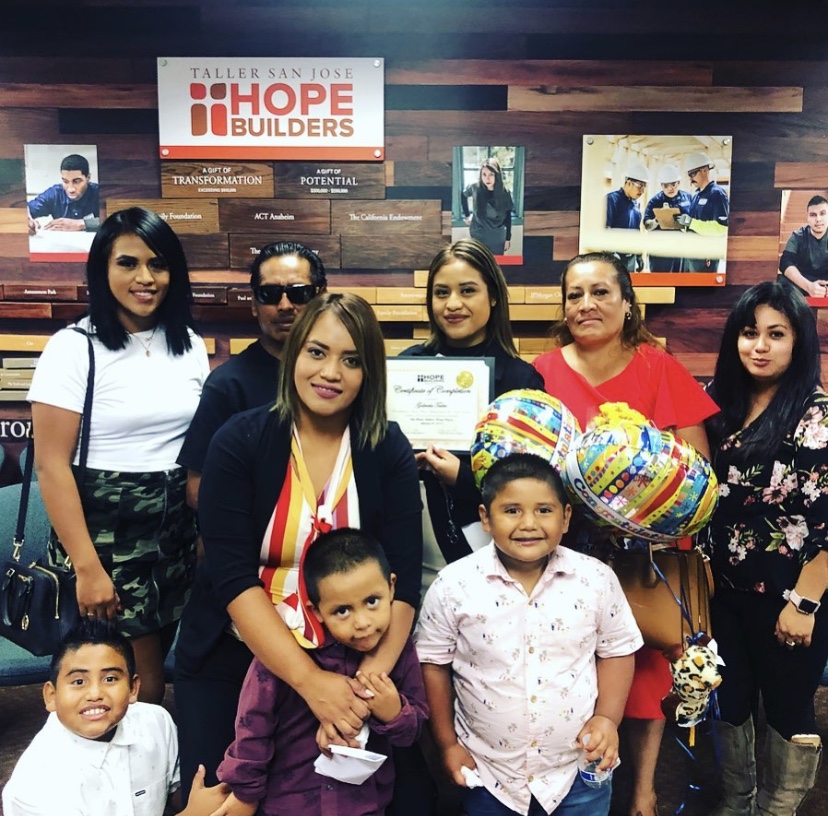 Meanwhile, Ana, closely watched her sister's career taking off. After high school, Ana studied accounting at Orange Coast College; but, when her company shut down, she was forced to drop out. As a single parent, she knew that she needed to do something to support her son. After seeing the success and confidence that her sister built, Ana decided to apply to Hope Builders' business training program.
"Before Hope Builders I tried to go back to school on my own, but I couldn't afford the books and tuition," said Ana. "I took advantage of all the resources Hope Builders offered on top of the free training and course materials, like the childcare vouchers and access to computers."
Hope Builders recently linked Ana to an opening at Southern Counties Lubricants. She's now a Collections Specialist in their finance and accounting department making $15 an hour with full benefits.
"I am more confident now and I feel like I can accomplish anything I put my mind to," said Ana. Through it all, the sisters ensured the other was able to pursue their dreams by offering help with childcare and words of encouragement when the demands of Hope Builders' coursework were most intense.
Over the past 25 years, Hope Builders has proudly transformed countless families, like Ana and Gabriela's pictured above, through its training and support. Together we can continue to launch more young adults into careers.