Builders' Luncheon 2019 Raised Over $120,000!
Leaders in the construction industry from across Orange County gathered for Hope Builders annual Builders' Luncheon where they raised over $120,000!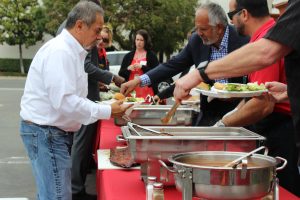 Nearly 100 attendees enjoyed delicious BBQ at the luncheon hosted by Clark Construction, PCL Construction and McCarthy. Guests were faced with anticipation as they entered the warehouse where two covered cars were showcased from Guaranty Chevrolet. What was underneath the covers was a mystery.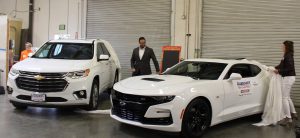 A kick-off event leading up to Hope Builders' annual Light Up A Life event started with unveiling the cars that were selected for this year's Raffle4Hope. The crowd applauded when a 2019 Chevy Camaro 2SS and Traverse Premier were uncovered.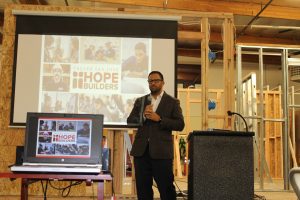 These are the cars the winner of the raffle gets to choose from when their name is announced at the Light Up A Life Gala on September 14th. The program featured remarks from Carlos Gonzalez: Clark Construction, Elton Murakami: PCL Construction, Mike Meyers: McCarthy, Shawna Smith: Hope Builders, and a speech by a Hope Builders' alumni that left guests inspired and on their feet for a standing ovation.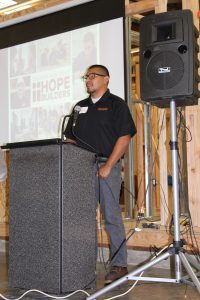 David, a recent Hope Builders' construction alumni, expressed his gratitude to Hope Builders after explaining how his life transformed. David missed crucial parts of his life after serving a four-year prison sentence. The most crucial one was missing three years of his son's life. Being away from his son sparked a desire to do better and after being released from prison, David began applying for jobs. He was left hopeless after facing the reality of limited options due to having a criminal record. After enrolling in Hope Builders, he excelled in training and in his apprenticeship at Sunwest Electric where he currently works today.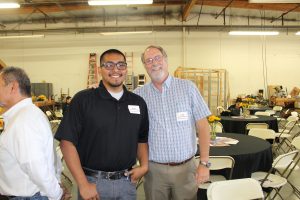 "Sometimes after work I don't take off my shirt because I'm proud of where I work," said David. He hopes to grow within his company and continue to provide for his family.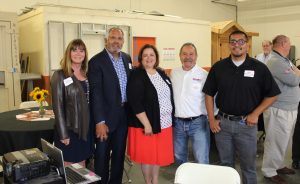 The inspiring speech by David and prompting words from the hosts, kicked off a time where representatives from different construction trade companies stood and pledged an amount, exceeding the original goal to raise $100,000 by the end of the event.
Hope Builders believes in second chances. Hope Builders believes in helping young people reach their full potential. It cannot happen without the support of its partners and people in the community.