Employer Roundtable- The Important Role Employers Play
After discovering one of his top performing employees was a Hope Builders' graduate, Francois Tiab, Owner of Embers West, decided to reach out to Hope Builders with the desire to access more reliable employees.
"Unlike many of the laborers we get from other sources, the youth here really want to make a change," said Francois.
Hope Builders' construction program hosts quarterly roundtables for employers in the trades to learn about hiring a graduate.
Last year, Hope Builders launched a new program with the trades, which is designed to help employers recruit and vet reliable employees. Hope Builders enrolls youth, provides training that leads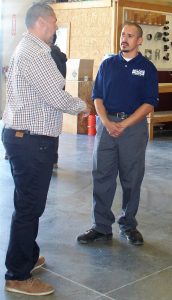 to OSHA-10 and First Aid/CPR Certification and prepares youth with the soft skills needed to succeed in the construction industry. After 10 weeks of training at Hope Builders, registered employer partners interview youth for a 10-week paid internship. 84% of youth who participate in on-the-job training transition to permanent employment with their sponsoring company.
"We thought to take a break this round, but we were so happy with the results of our trainee that we decided to come back for one more," said Megan Langston with Aire Rite Air-Conditioning & Refrigeration, Inc.
While trainees are placed with employers, Hope Builders remains in constant contact with employers and trainees to ensure trainees are successfully contributing to the company and to immediately address any problems that may arise.
"Once feedback is provided to the Hope Builders' team, the changes with the trainee are almost instantaneous," said Fidel Nieves, Human Resources Manager of Hale Glass.
In addition to helping employers build a pipeline of people prepared to enter the construction industry, through this unique partnership Hope Builders is also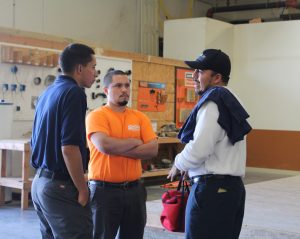 placing youth into jobs that pay an average hourly wage of $15.14. Staff supports employee retention with up to six months of case management, skill development and life skills support. And this pays off…93% of youth placed retain their employment through 6 months.
The program also serves as a source of revenue for Hope Builders. The agency charges each employer an hourly fee for 400 hours of on-the-job training. To date, the program has generated more than $350,000 in revenue.
With the success of this program resulting in higher wages and stronger employment retention, Hope Builders is working to expand this program to its information technology program in 2020.