Hope Builders: A solution to getting Orange County's young people back to work
Hope Builders has finalized its implementation model to annually prepare 280 young adults for careers.
In March, Hope Builders shifted its programs to online instruction, virtual case management, therapy and career readiness courses. Realizing that the ongoing pandemic called for longer-term flexibility, Hope Builders worked with a team to identify and implement a blended learning approach to its training. Relying on best practice in e-learning (and our own experience over the past three months), on July 1 Hope Builders launched a learning platform that integrates remote, live-online and on-site service delivery. Leadership believes that this new model will ensure high-quality programming, responsiveness to changing delivery limitations, and drive greater efficiency over the long term.
Continuing job training and placement services.
Since March,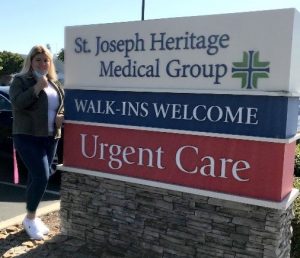 Hope Builders has matched 11 young adults to paid internships through its social enterprise. It has connected another 14 healthcare trainees to 160-hour on-the-job practicums, which are a required piece of their medical assisting training. Dominique, pictured right, is thrilled to get hands on experience at St. Joseph Heritage Medical Group. "I am so excited to start here and I am extremely thankful for this opportunity," she exclaimed.
Engaging corporate partners in virtual mock interviews.
Last month, community members empowered trainees on their journey to success by participating in virtual mock interviews. Edith, an employee at First Foundation, reflected on her first virtual volunteer opportunity, "My experience was great. I was hesitant at first, but it ran smoothly." Edith so enjoyed the chance to help prepare Hope Builders' trainees for their careers that she hopes "more people can volunteer in virtual mock interviews in the future."
As more companies incorporate virtual screening, Hope Builders will continue to build confidence in trainees through online engagement opportunities. Carlos, a trainee from Hope Builders' Information Technology program shared, "I was nervous for my first job interview. I remembered the feedback I received from mocks and practiced to feel more confident. It felt great knowing I did my best and put to use what I've learned."
By combining creativity and technology, Hope Builders continues to be a solution for getting Orange County's young people back to work.
Thank you for your ongoing commitment to Hope Builders. Your generosity strengthens Orange County.