Partnering with Hope Builders is Good for Business
Community-based organizations like Hope Builders are the new front door to the workforce and community colleges.
This was one of the major themes that emerged from a panel of construction, healthcare and education leaders, who participated in Hope Builders' April 26th convening of local employers, educators and community investors. The group discussed challenges that Orange County employers face in filling open positions and retaining quality employees.  Employers and educators aren't going to fill this void by doing business as usual; they will need to partner with agencies like Hope Builders, which is poised to double the number of youth that it serves annually.
Mike Balsamo, CEO of the Building Industry Association of Southern California says Hope Builders, "gives people a real opportunity to learn if they even like construction." It shows them what the industry is like and exposes them to the physical demands of the job. Hope Builders teaches youth that hard work and perseverance will lead to career advancement. This is critical at a time when employees are walking off the job after a few months because they realize that the work isn't what they expected it to be. At a time when unemployment in the construction industry is at an all-time low, programs like Hope Builders that prepare youth with skills that are valued by the industry, are critical.
There are similar issues in the healthcare industry. Over the next five years, the need for medical assistants is projected to grow 19.2% in Orange County. Najla DeBow, System Manager of Talent Acquisition for Providence St. Joseph Health added that, from her experience, people who encounter all levels of healthcare jobs often are better-positioned to advance in the field than their peers who have a degree but no field experience.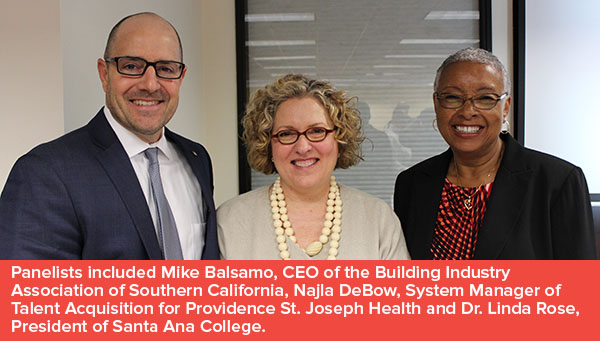 Hope Builders specializes in preparing reliable, loyal employees, who are armed with the technical training in demand by today's employers. Over the next 5 years, Hope Builders expects to move over 1,000 youth into the workforce. Dr. Linda Rose, President of Santa Ana College, believes that the key to Hope Builders' success is the attention it gives to preparing youth with the life skills that young people need to succeed. "The average community college student takes 6 years to complete a degree program," says Dr. Rose.  This is because their life gets derailed along the way –they lose access to transportation, their childcare falls apart, they can't afford books one semester—yet "community colleges lack the resources to help students address these life issues." A program like Hope Builders helps a young person figure out how to put their life in order so that they will be stable employees.
As it grows to serve more youth, Hope Builders will deepen its focus to ensure that young people permanently move themselves and their families to stability. "Getting a job is not enough in Orange County," says Executive Director Shawna Smith. "Hope Builders is committed to equipping young people with the skills they need to access quality jobs that lead to higher pay and career growth. This type of change is transformative."