HB100 Bi-Annual Meeting: An evening of hope and growth strategy
Behr Paint Company generously hosted Hope Builders' HB100 bi-annual meeting on December 9th. Orange County leaders, pictured above, came together to strategize how Hope Builders can best develop and scale innovative solutions to the skills gap.
Members were joined by Dr. William Singleton, Clinical Psychologist, who shared insights on the lasting impact of childhood trauma and its potential to negatively impact youth in Hope Builders' target population as they enter the workforce. Dr. Singleton confirmed that the assessment, support groups, individualized case management and mentorship that Hope Builders provides, paired with hard skills training, is the solution to ensure disadvantaged youth get and keep a job.
Youth currently enrolled in Hope Builders and an alumnus, shared their own experiences with representatives from Hakes Sash & Door, JPMorgan Chase & Co., PCL Construction Services, Inc., Brookfield Residential, Golden State Foods, St. Joseph Hospital, TAIT & Associates, Supplemental Health Care, Behr Paint Company, eMaxx Partners, Marin-Finn Foundation, The Law Offices of Rick S. Weiner and Avalon Financial Group.
Adrian, pictured right with Allen Hakes, President of Hakes Sash & Door, and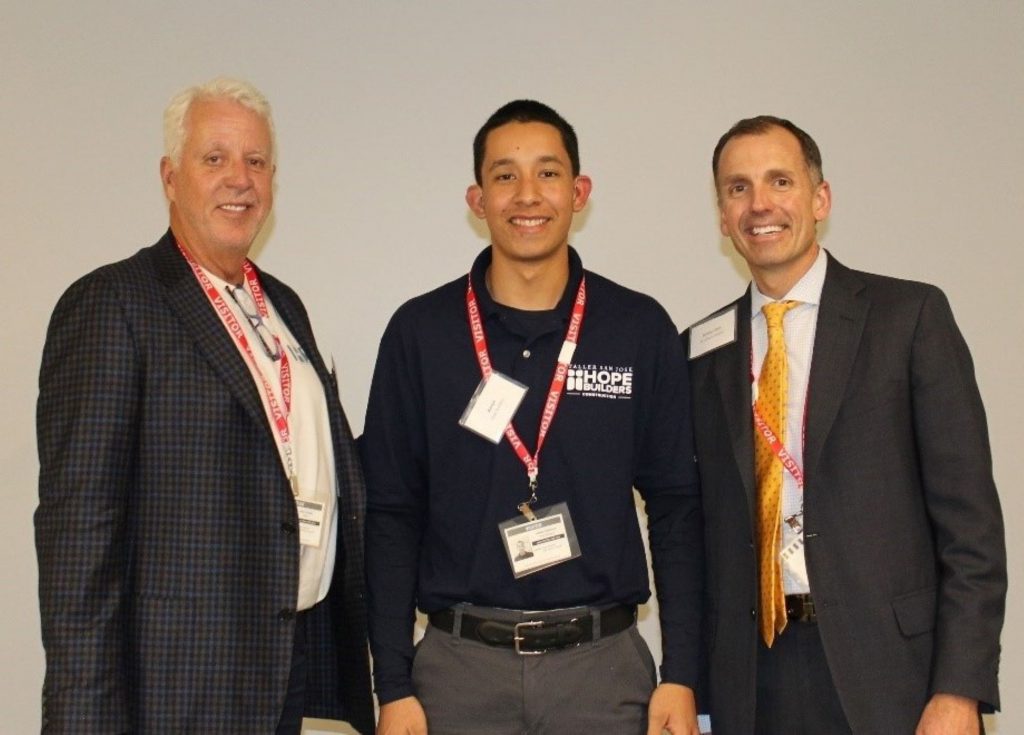 Jeremy Zoch, CEO of St. Joseph Hospital, shared "I was eager to work in construction, but didn't know how to get started. I had no family support and felt lost. With guidance from Hope Builders, I'm now on the path to my dream job. Thank you!"
Hope Builders' Executive Director, Shawna Smith, reported on the below accomplishments of the social enterprise, Jobs WORK, over the past 18 months. Smith also shared the learnings that this model shift has created and how the team is responding. "Next year marks our 25th anniversary. The core of our mission remains the same, but as the employment landscape in Orange County changes we must also adapt," Smith remarked.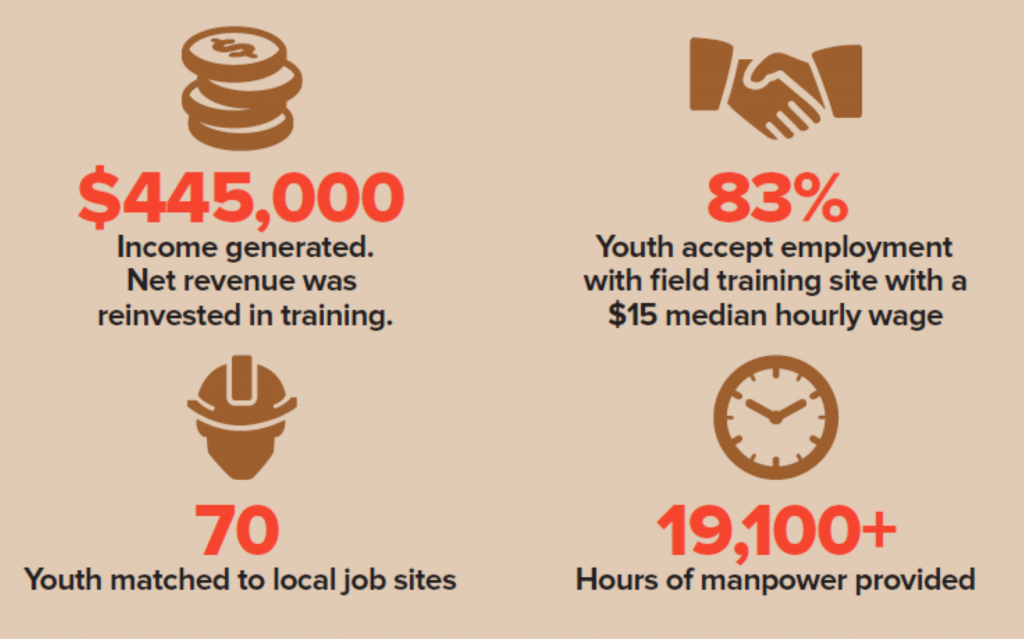 Through the pro bono support of eMaxx Partners CEO, Tim Blett, Hope Builders has recently undergone a Market and Growth Process (M-GAP) analysis to uncover key insights to guide strategic brand & growth recommendations. As part of this work, Hope Builders is developing a state-of-the-art assessment tool to ensure its program is efficiently and effectively impacting young lives. The agency has also refined its workforce readiness standards and developed Key Performance Indicators at each phase in its program to ensure greater accountability.
These refinements are expected to result in more youth transitioning into the workforce and the expansion of Hope Builders' Jobs Work to include Help Desk Tech paid internships in addition to construction. In 2020, Hope Builders is poised to link 88 youth to paid internships and generate $700,000 in gross revenue through its Jobs Work paid internship program.
A stable job is critical to life stability that will ultimately move a young person from poverty to prosperity. Thank you to the HB100 members who walk beside us in this work, click here for a complete membership list.